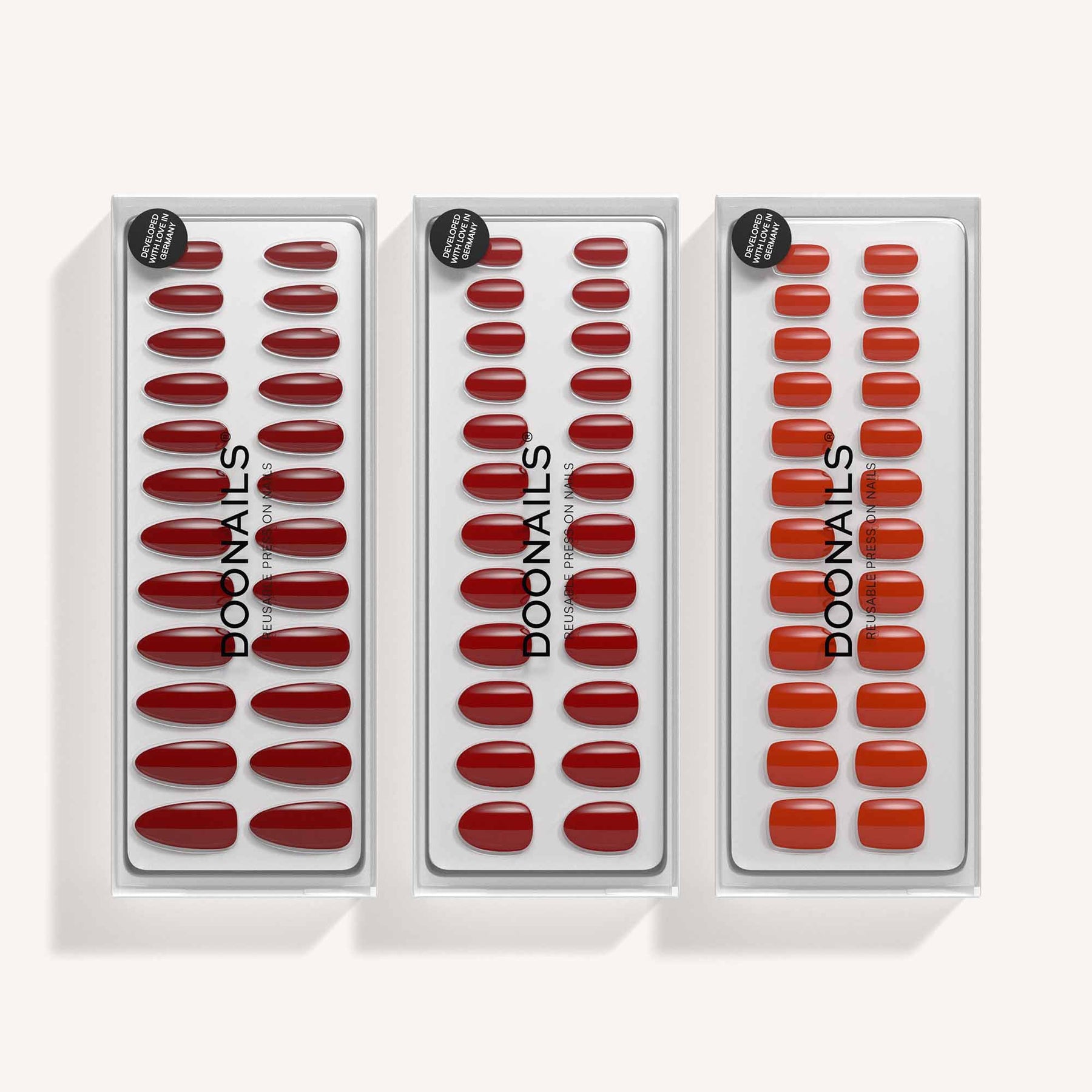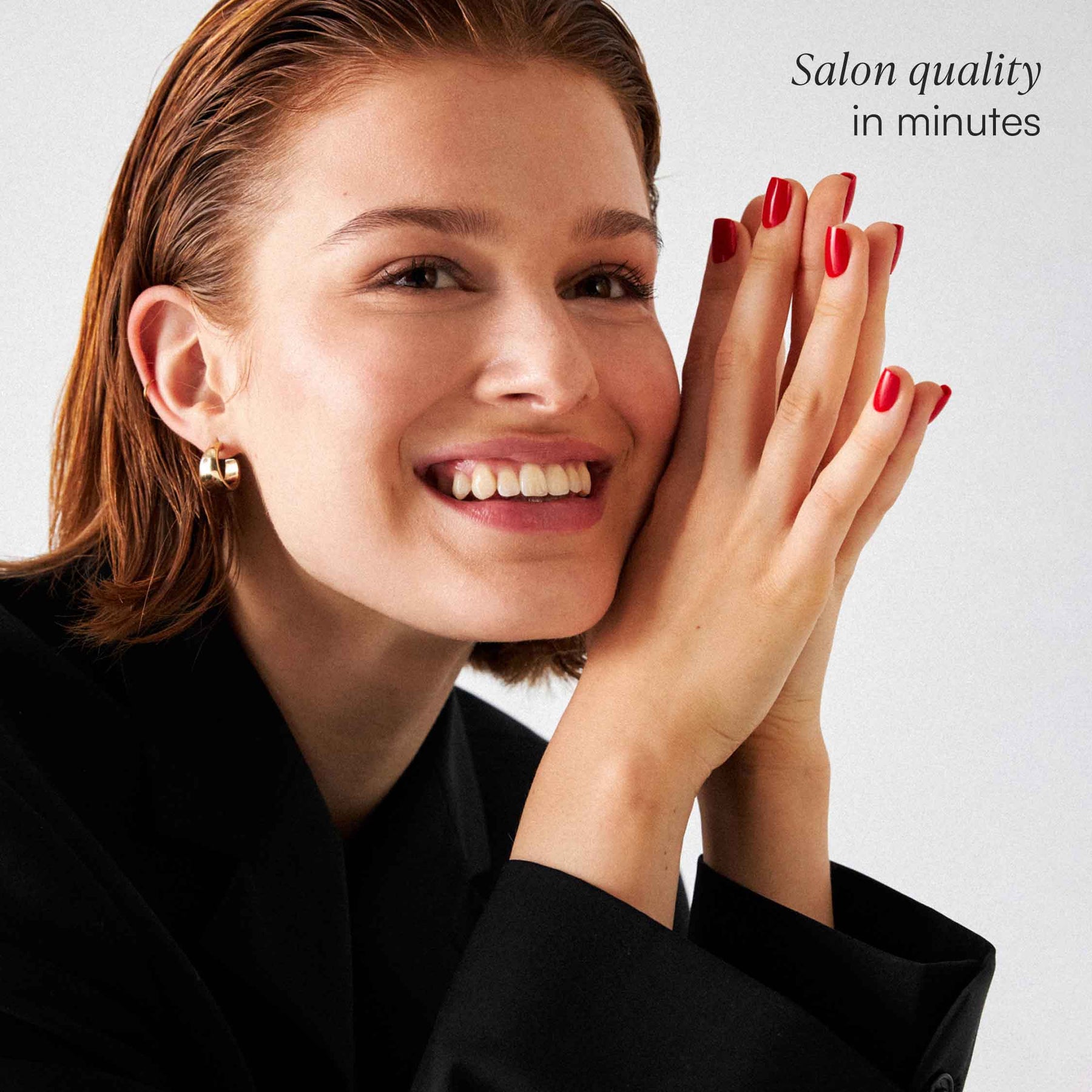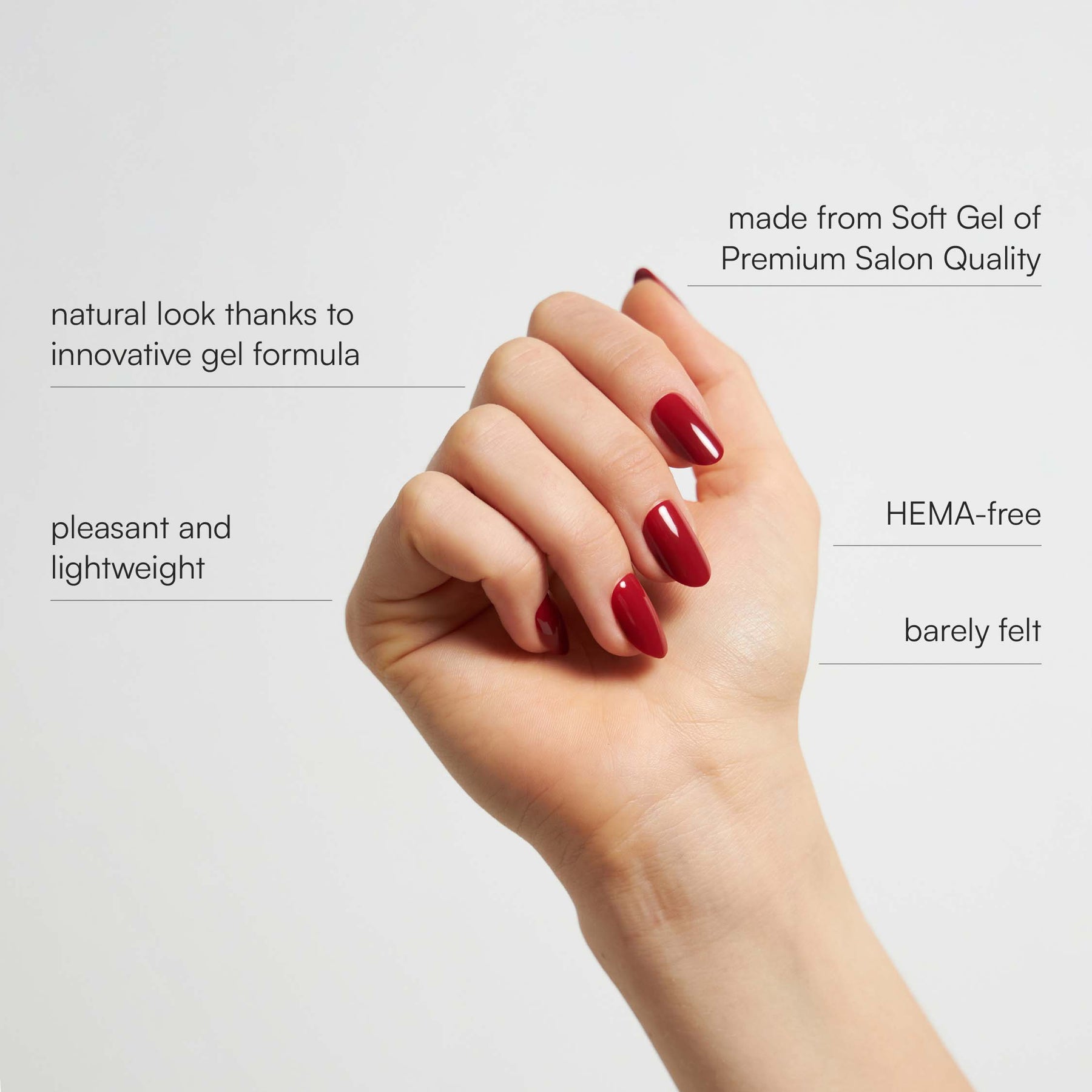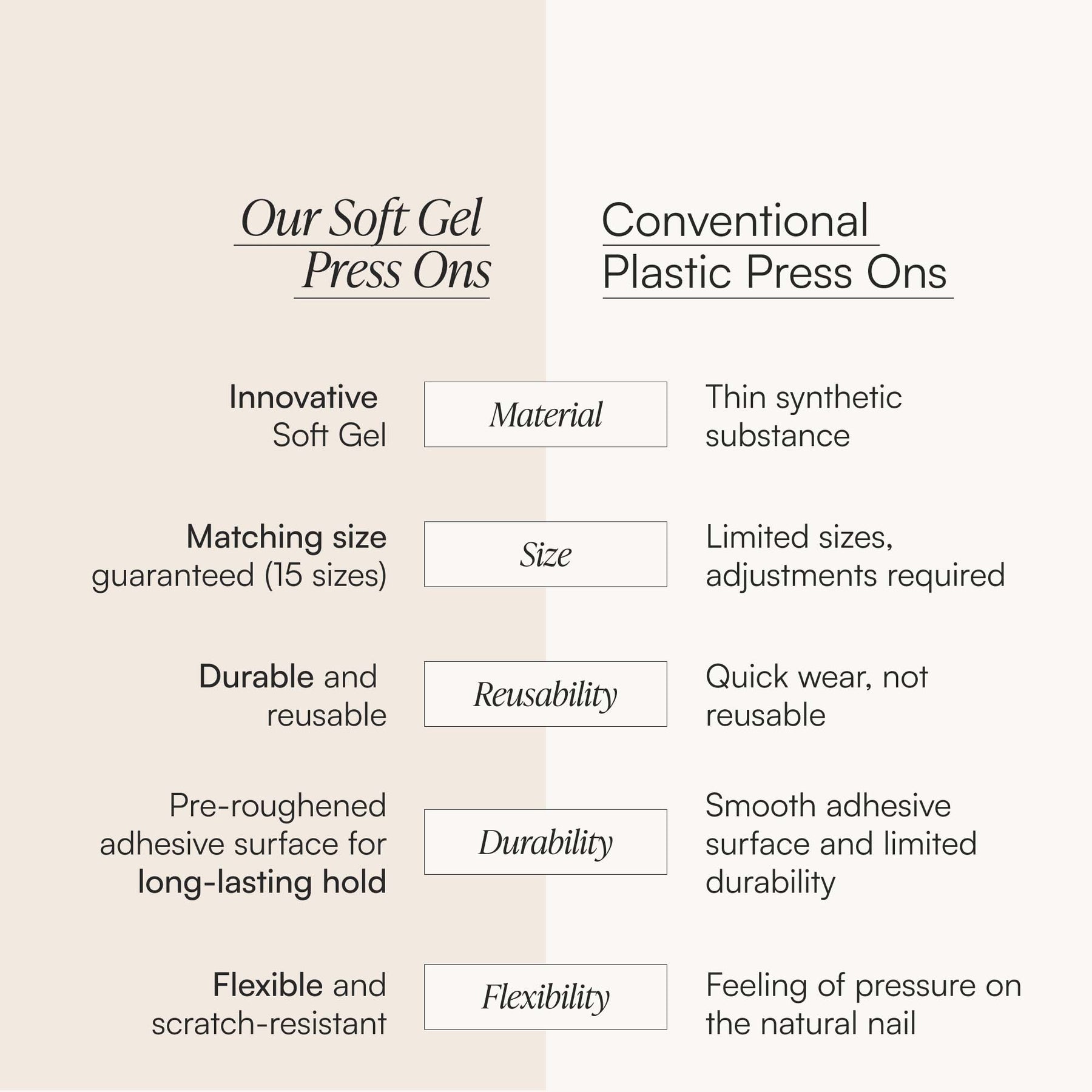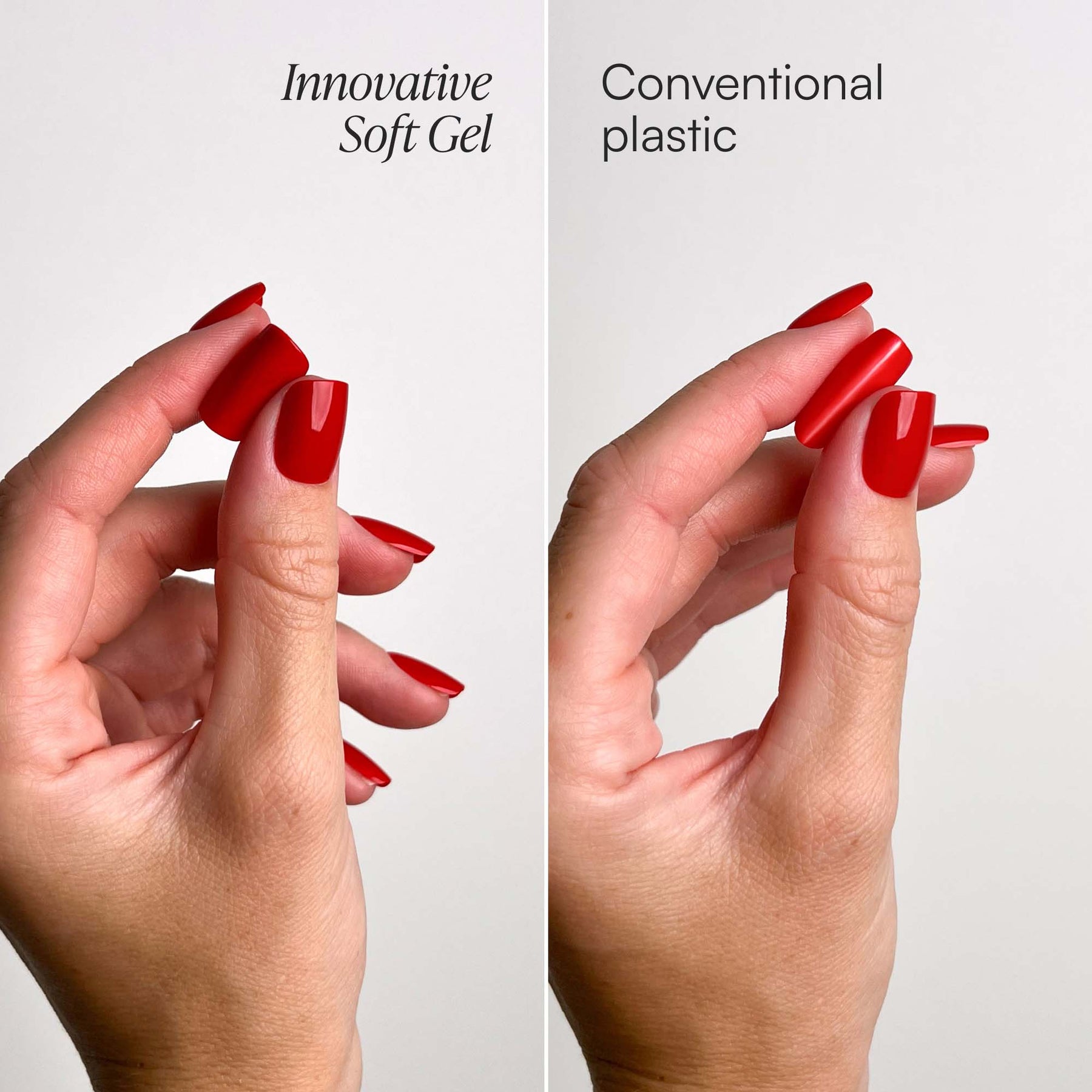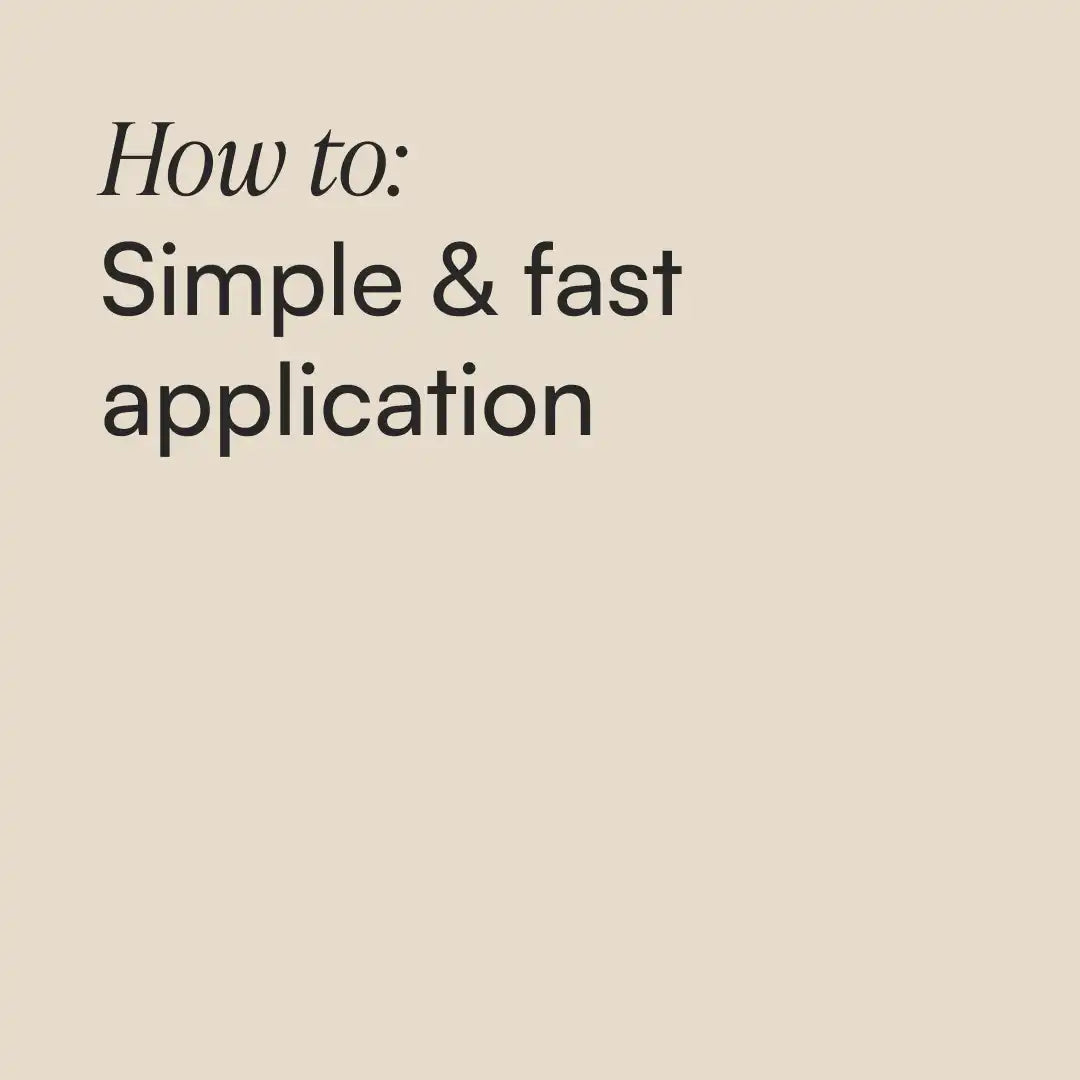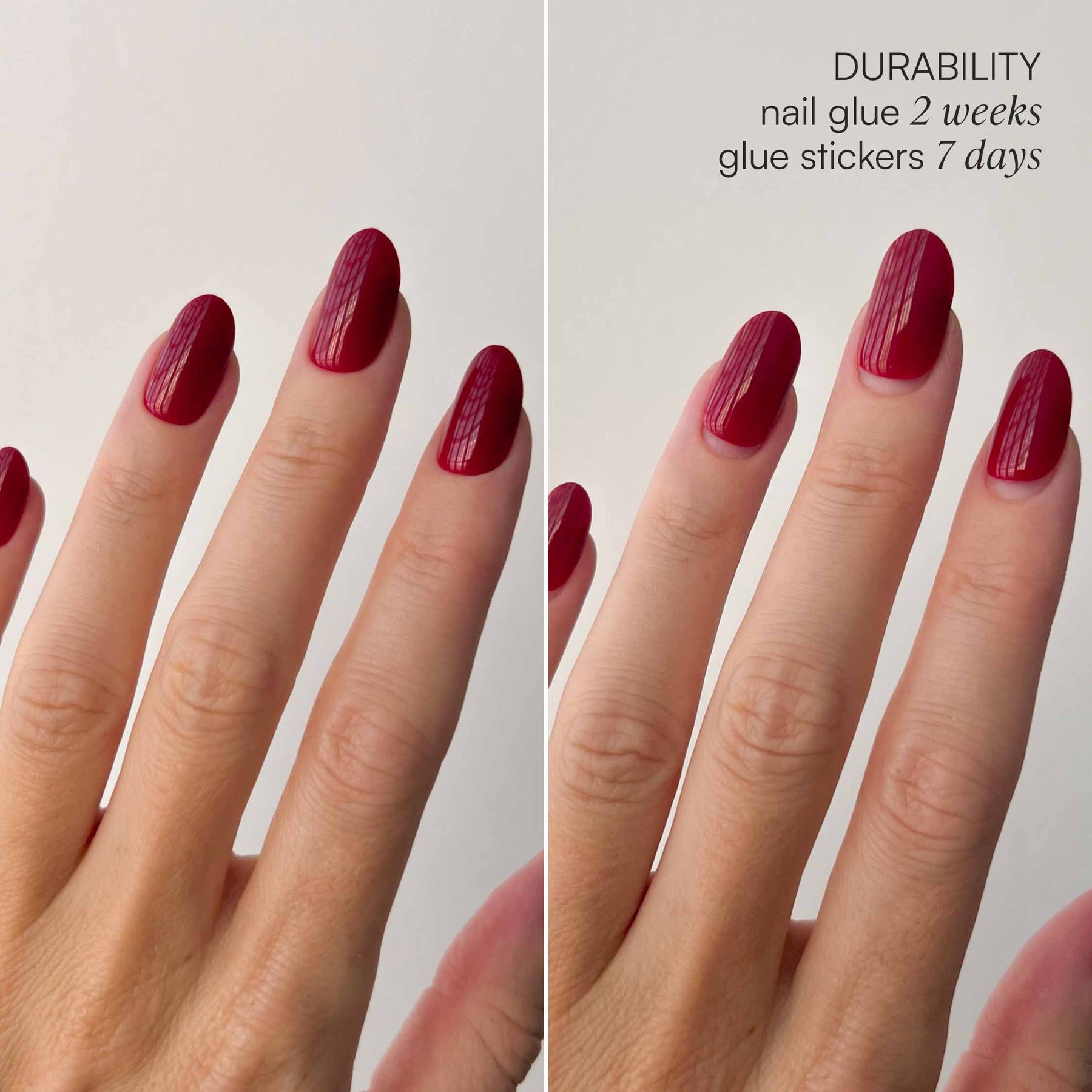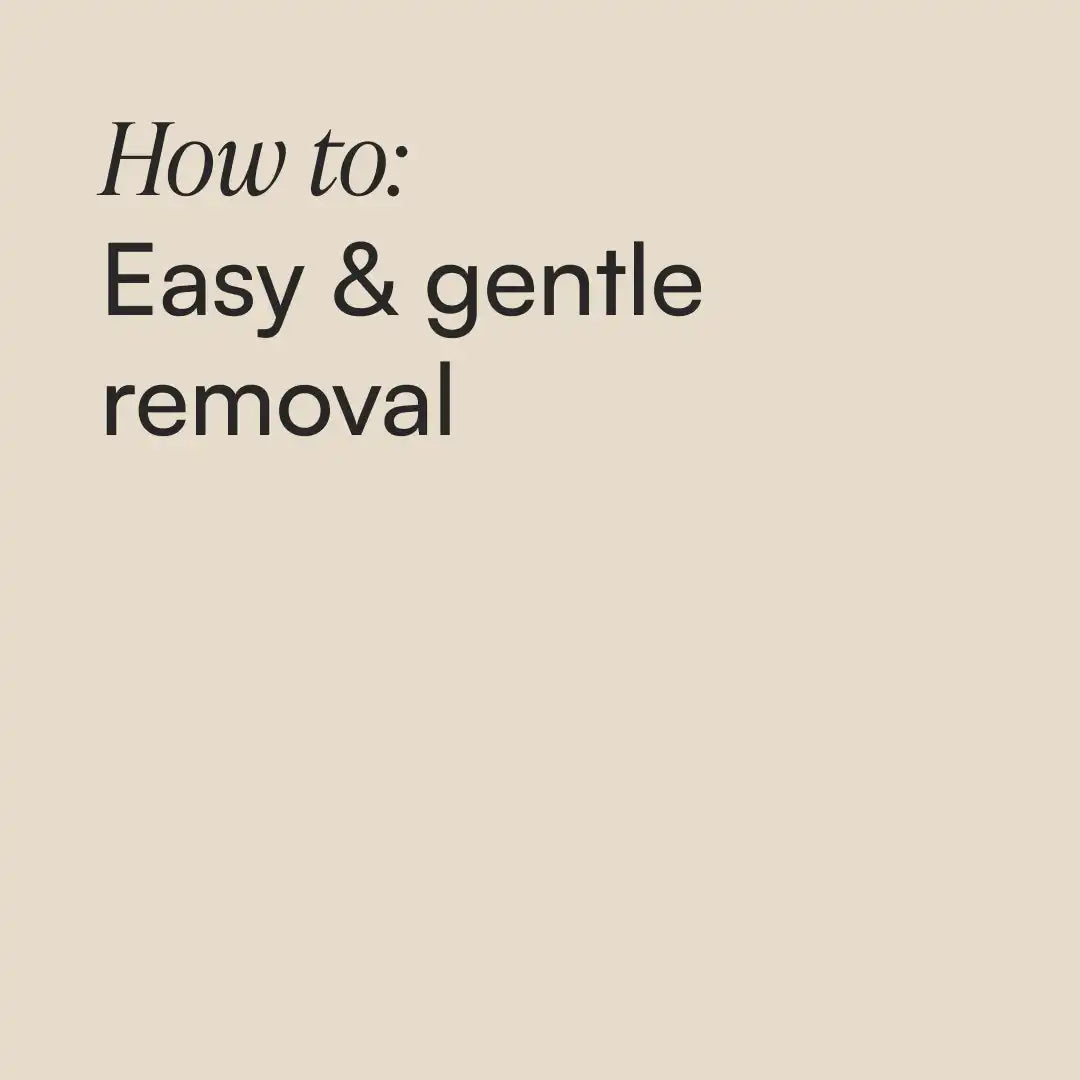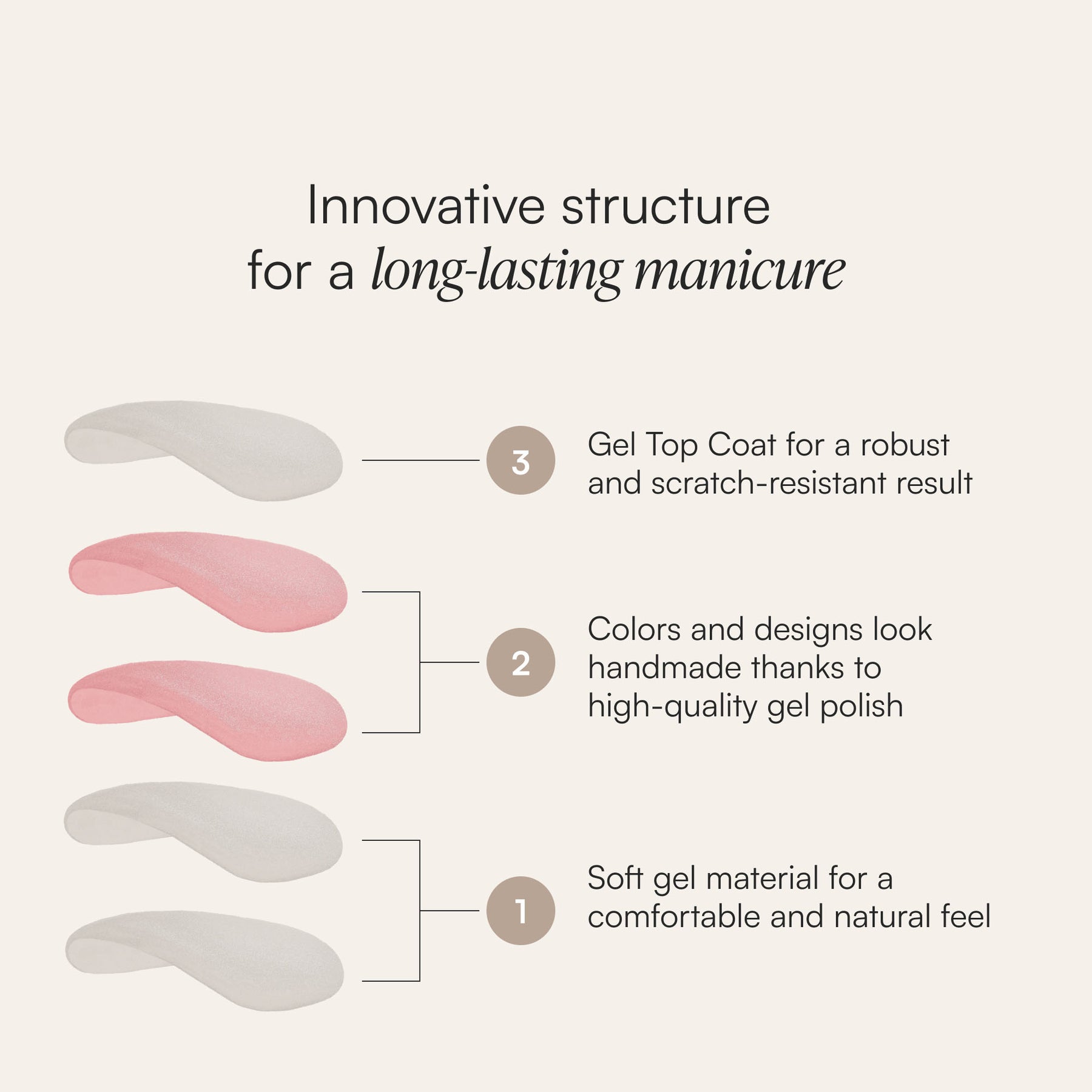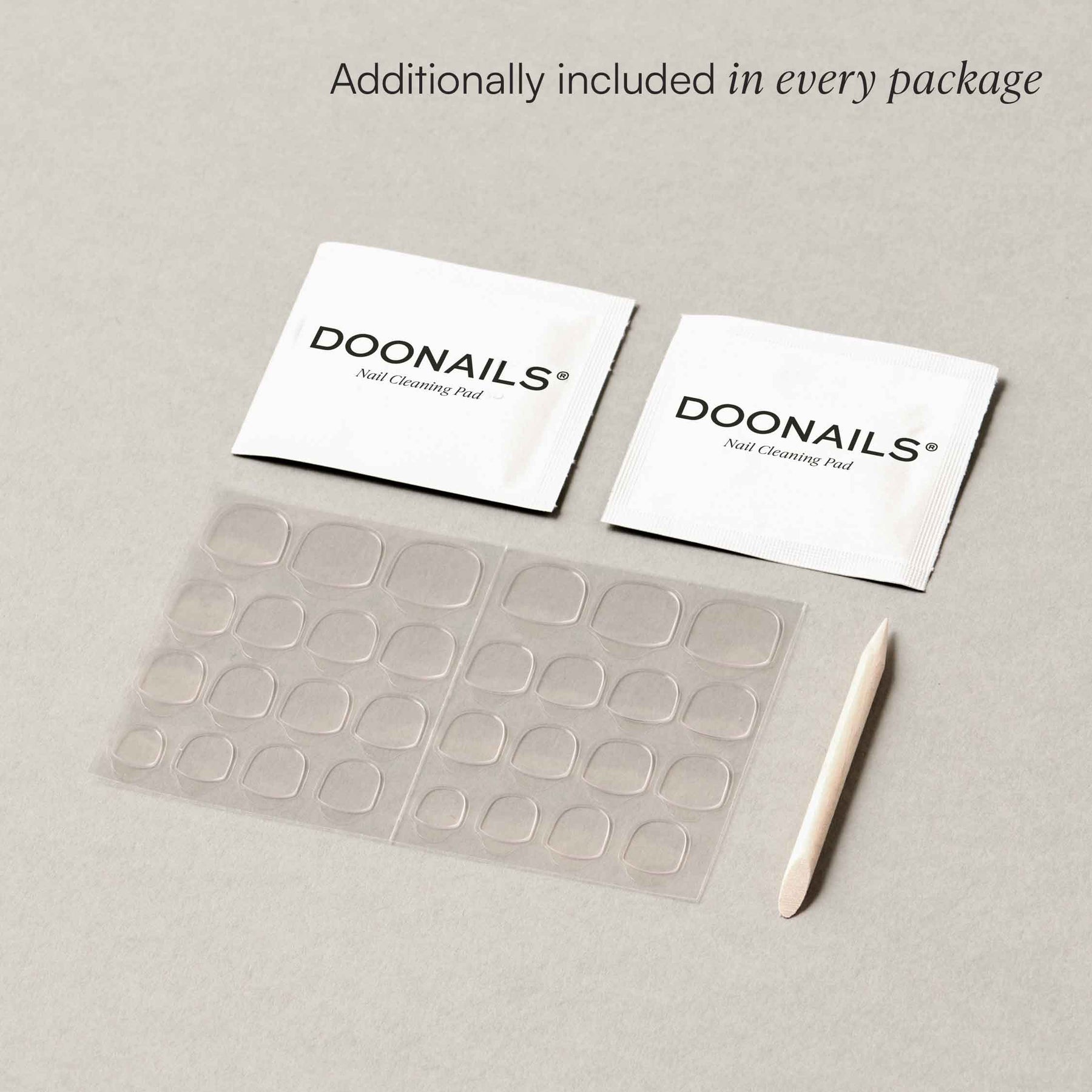 Soft Gel Press Ons Set
Your 3-piece Soft Gel Press Ons Set - Choose 3 pieces.
4 reasons why you'll love Soft Gel Press Ons from Doonails:
Innovative soft gel material
Reusable thanks to adhesive sticker
Easy application & removal
Doonails Soft Gel Press Ons
Elisa explains in 60 seconds
Unique manicure experience with innovative soft gel formula.
Our Soft Gel Press Ons are made of high-quality gel material, which not only offers stability and resistance, but also ensures a natural and elegant look. Reusable as often as you like, for perfect nails in just a few minutes.
You can apply your press-ons either with the included adhesive stickers or with nail glue.
Consider the following steps:
File natural nails, gently push back cuticles, remove invisible cuticle at the nail base, and roughen the nail surface.
Thoroughly clean nails with the cleaning cloth.
Choose the appropriate size of the press-ons.
TIP: Typically, each nail on both hands has the same size. If press-ons are too large, they can easily be filed narrower at the edges.

Option 1: Application with Adhesive Stickers:
Stick adhesive stickers with protective film onto the nail and press firmly. Use a rosewood stick to remove air bubbles at the edges and peel off the protective film. Position press-ons at a 45-degree angle at the nail base and slowly lower with some pressure. Press firmly for about 60 seconds.

Option 2: Application with Nail Glue:
Apply nail glue generously on the adhesive side of the press-on nail. Optionally, thinly coat the natural nail with nail glue. Position press-ons at a 45-degree angle at the nail base and slowly lower with some pressure. Press firmly for about 60 seconds.

IMPORTANT: Do not file at the tip, as this may cause the top coat seal to loosen/peel. It is best to file press-ons narrower only at the sides.
Apply nail oil to the edges of the nails and massage well to facilitate the loosening of nail glue/adhesive stickers.
Prepare a bowl with warm water, 1-2 pipettes of nail oil, and 2 pumps of soap. If you used nail glue, add about 10 ml of Doonails Remover to the oil bath.
Soak the nails for approximately 10 minutes.
Meanwhile, lift and loosen the Press Ons repeatedly with a rosewood stick until they completely detach. If needed, soak them again in the oil bath for a few minutes.
Gently remove any adhesive residue with a glass file or a buffer.
Nourish the nails with nail oil.
Removing the Press Ons is super easy and simultaneously cares for your nails and hands. It's important that the water is pleasantly warm, and you add a soap of your choice as it helps in effective blending of oil and water.
Yes, our Soft Gel Press On Box contains everything you need for a manicure with Press Ons. Our Soft Gel Press Ons are made in such a way that filing is no longer necessary.
If you attach your Press Ons with adhesive stickers, you can use them until they no longer look nice to you. However, before using them again, make sure that there is no adhesive residue left on the underside and that all oil residue is removed.
If you attach your Press Ons with nail glue, you will most likely only be able to use them once, as a remover is required to remove them, which will probably change the appearance of your Press Ons. The adhesive residue is also very difficult to remove.
Our tip: If you use our adhesive stickers, you can lightly coat the Soft Gel Press On nails with nail glue before attaching them to the natural nail. The motto "two is better than one" really applies here to avoid visible air bubbles. To avoid air bubbles in general, always press the adhesive stickers firmly onto the natural nail. If you use nail glue, make sure you use enough glue.
Shipping time 3-5 working days with DHL
Free shipping from €60
Under €60 the shipping costs are €9,95
We offer:
Fast shipping from our warehouse in Germany with DHL.
All orders have a tracking number.
Good news! We deliver securely and contactless.