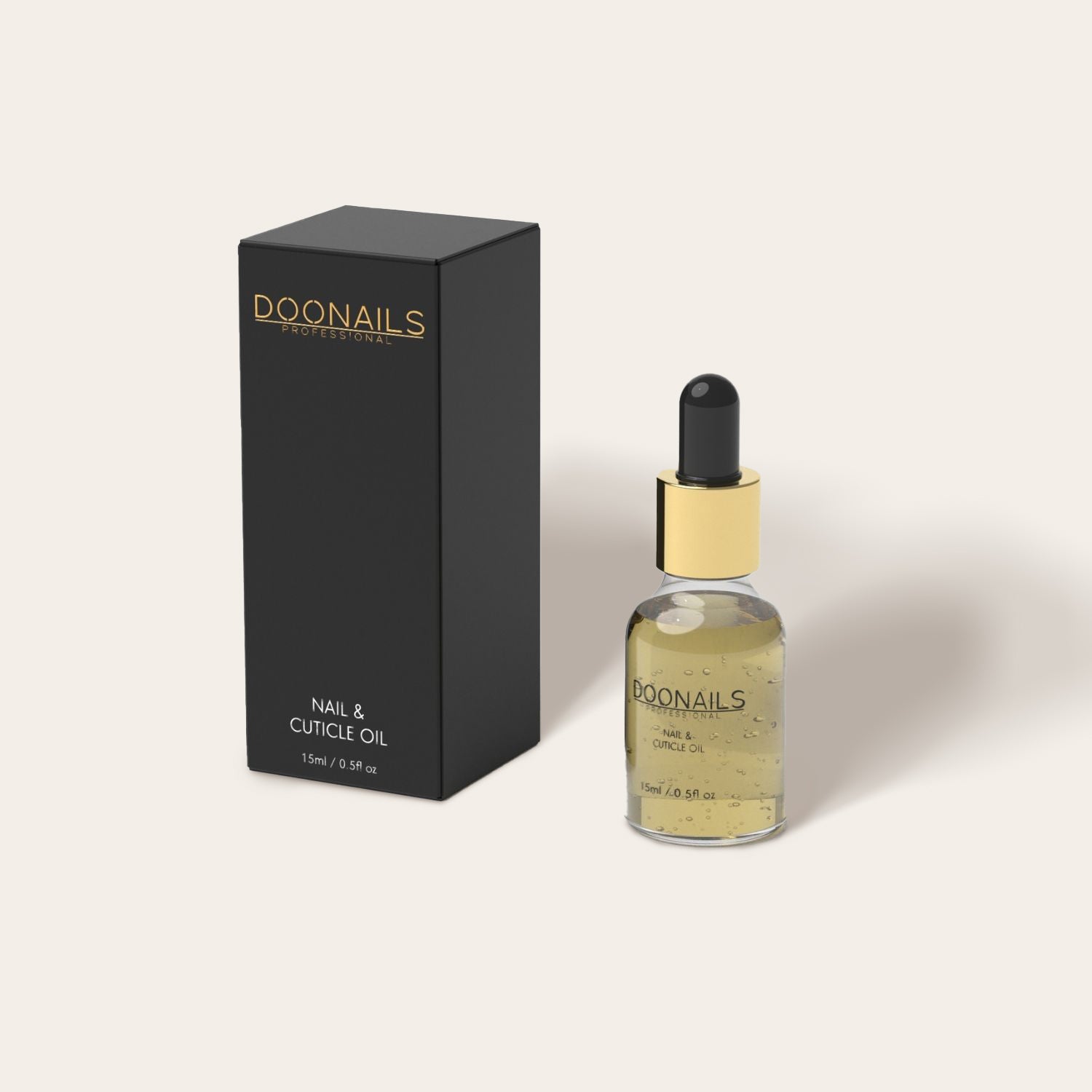 Nail & Cuticle Oil
Neutral smell
Easy to apply
Contains nourishing nutrients
Up to 20 applications
• In stock - Delivered in 3-5 days

The Doonails nail oil strengthens your nails, brings brittle nails back into shape and provides the nail area with optimal moisture and important nutrients.

It is wonderfully suitable as a care product to soften dry cuticles and give your nails a natural shine. Due to its soothing effect, Doonails nail oil is also ideal for sensitive skin.

Application

We recommend to use the nail oil after each Dipping Powder application, after each removal and if necessary also in between.

Simply put a drop on each nail bed and gently massage it into the nail bed and the surrounding cuticles.

Note: Do not use the nail oil before application as oils can affect the durability of the Dipping Powder application.
Glitter dream
Holo-glitter in a beautiful shade of pink, alone or in combination (with Cheesecake on me) an absolute dream, especially in the sunlight! Am in love:)
Completely flashed, thanks Doonails!
With Doonails everything is possible:easy correction for perfect finish, long-lasting shine, well-groomed looking and stunning nails. I love this doonails system! Clear recommendation... ❤️ p. S. My nails are a week old, first try. I live a very active life, hardly have time to paint my nails every night, let alone make regular appointments and sit around in the nail salon. This system exceeds all expectations 💅😍💋
Beautiful color but
Use Doonails just the first time and am super satisfied with the use, unfortunately, this color is much more gaudy and rather more pink than indicated. But since now eh the spring is there, half so wild :)
Just great
I ordered the doonails because my nail polish after 2 days looked like wanted and not done, chipped and crumbly. With the doonails I have done the usual house and garden work have built 2 cabinets and was at the horse. Not one chip! Not crumbly nothing. I am totally thrilled they look like new. Have already recommended them to others.
I am very surprised how easy it is!
I just did it for the first time. It is really easy to use. You just have to practice the top chat really thin to wear. But I think 2-3 more times then it will be perfect for me. It goes very quickly, perfect for me because I am very impatient with the drying of normal nail polish. I can really recommend it to everyone.
Bien
Ma maman est ravie mais aime quand même bien lorsqu'il y a une petite odeur agréable
1st try with Doonails
A few days ago I did my nails for the first time with a Dipping Powder and am thrilled! Easy to apply, super durable, beautiful colors. My natural nail are protected and can recover and grow.
I am so Happy
I am very happy with Doonails ! The oil is the hit ! The colors i love it !!! I can make me every week new nails and all without tips !!! I have many friends Doonails Recommended.
A little brighter than on picture
The color is a little lighter than expected, but still very nice. As a complete Doonails novice, I could work with the help of the instructions but already very good. My toenails were also due and glitter now in Sparkling Rose. It holds so far very well and is really fun. I catch me already thinking about what will be used next for a color ... :) vllt I dare to a baby boomer, but am there very demanding and must first practice.
A miracle!!!
I am very happy that there are doonails! Finally an easy, fast, beautiful and pretty result , that it lasts long and that it looks like at the nail salon!